3 Effective Ways to Visualize your Data on Excel
You can easily visualize your data to help you understand data trends better using tools from Microsoft Excel. This article will introduce 3 ways to help you visually explore and analyze data, detect critical issues, and identify patterns and trends. 
Sparkline 
A sparkline is a tiny chart in a worksheet cell that provides a visual representation of data. Use sparklines to show trends in a series of values, such as seasonal increases or decreases, economic cycles, or to highlight maximum and minimum values. Position a sparkline near its data for greatest impact.
 1. Select the column or row of data which you would like to create a sparkline from.
2. On the Insert tab, in the [Sparklines] group, click [Line].
3. Insert the location of your Sparkline or simply select the cell you would like the Sparkline be positioned, then click [OK].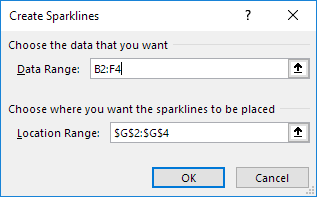 4. To illustrate the data trend and pattern better, you may increase the width of your cell.
5. If you have more than one row or column of data that needs to be represented by Sparkline, drag the Sparkline to copy the formula
Format a Sparkline chart
1. Select the Sparkline chart.
2. Select [Design] and then select an option.
– Select Line, Column, or Win/Loss to change the chart type.
– Check Markers to highlight individual values in the Sparkline chart.
– Select a Style for the Sparkline.
– Select Sparkline Color and the color.
– Select Sparkline Color > Weight to select the width of the Sparkline.
– Select Marker Color to change the color of the markers.
– If the data has positive and negative values, select Axis to show the axis.
Conditional Formatting 
Conditional formatting makes it easy to highlight interesting cells or ranges of cells, emphasize unusual values, and visualize data by using data bars, color scales, and icon sets that correspond to specific variations in the data.
Today we will cover 2 ways on conditional formatting – Highlight Cell Rules and Data Bars. 
Highlight Cell Rules: You may specify rules which you wish to highlight your cells, such as values greater than, less than, or duplicate values, etc.
Data Bars: Data bars can help you spot larger and smaller numbers, a longer bar represents a larger value, and a shorter bar represents a smaller value.
To Apply Conditional Formatting
 1. Select the range of cells, the table, or the whole sheet that you want to apply conditional formatting to.
2. On the Home tab, click [Conditional Formatting].
3. Refer to the following table on ways you could visualize your data:
To Highlight
Do This

Values in specific cells.

Examples are dates after this week, or numbers between 50 and 100, or the bottom 10% of scores.

Point to Highlight Cells Rules or Top/Bottom Rules.

Then click the appropriate option.

The relationship of values in a cell range. Extends a band of color across the cell. 

Examples are comparisons of prices or populations in the largest cities. 

Point to Data Bars,

Then click the fill that you want.

The relationship of values in a cell range. Applies a color scale where the intensity of the cell's color reflects the value's placement toward the top or bottom of the range.

An example is sales distributions across regions.

Point to Color Scales

Then click the scale that you want.

A cell range that contains three to five groups of values, where each group has its own threshold.

For example, you might assign a set of three icons to highlight cells that reflect sales below $80,000, below $60,000, and below $40,000. Or you might assign a 5-point rating system for automobiles and apply a set of five icons.

Point to Icon Sets

Then click a set.
您可以使用Microsoft Excel中的工具輕鬆地將數據圖像化,以幫助您更好地理解數據趨勢。 本文將介紹3種方法,以幫助您瀏覽和分析數據,檢測關鍵問題以及辨認圖數據趨勢。
走勢圖
走勢圖是工作表單元格中的一個微小圖表,可快速將數據圖像化。 您可以使用走勢圖顯示數據的的趨勢,例如季節性的增加或減少,經濟周期,或顯示最大值和最小值。 將走勢圖放置在資料旁可獲得最佳效果。
1.選擇要從其創建走勢圖的數據的列或行。
2.選取 [插入] 並挑選[折線] 。
3. 輸入走勢圖的位置,或簡單地選擇要放置走勢圖的單元格,然後按[確定]。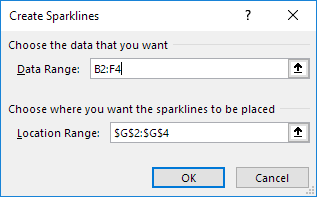 4.為了更好地顯示數據趨勢和模式,可以增加單元的寬度。
5.如果您需要用走勢圖表示一行或多列數據,請拖動走勢圖以復制公式。
格式化走勢圖圖表
1. 選取走勢圖圖表。
2. 選取 [設計],然後選取一個選項。
– 選取折線、直條 或 輸贏分析以變更圖表類型。
– 選取標記以在走勢圖圖表內醒目提示個別值。
– 選取走勢圖的樣式。
– 選取 走勢圖色彩 和色彩。
– 選取 走勢圖色彩 > 粗細 以選取走勢圖的寬度。
– 選取標記色彩以變更標記的色彩。
– 如果資料有正負值,請選取座標軸以顯示座標軸。
條件化格式
設定格式化的條件可讓您輕鬆地醒目提示有趣的儲存格或儲存格範圍、強調不尋常的數值,以及使用與資料中的特定變對應的資料橫條、色階和圖示集來視覺化資料。
今天,我們將討論2種條件格式的方式-醒目提示儲存格規則和資料橫條。
醒目提示儲存格規則:您可以指定要突出顯示單元格的規則,例如大於,小於或重複的值等。
資料橫條:資料橫條可以幫助您找出較大和較小的數字,較長的條表示較大的值,較短的條表示較小的值。
應用條件化格式
1.選擇要對其應用條件格式的單元格範圍,表格或整個工作表。
2.在 [首頁] 選項卡上,單擊[條件格式]。
3.有關條件化格式的應用,請參考下表:
若要醒目提示
執行此動作

特定儲存格中的值。

例如,本週之後的日期、50 和 100 之間的數字,或是倒數 10% 的分數。

指向 [醒目提示儲存格規則] 或 [頂端/底端項目規則]

然後按一下適當的選項。

儲存格範圍中的值的關係。越跨儲存格延伸色帶。

例如,最大城市的物價或人口之比較。

指向 [資料列]

然後按一下您要的填滿。

儲存格範圍中的值的關係。在儲存格色彩濃度反映分佈在範圍頂端或底端位置的值套用色階。

例如,各地區的銷售分配情況。

指向 [色階]

然後按一下您要的色階。

一個儲存格範圍,該範圍包含三到五組的值,每一組都有自己的臨界值。

例如,您可以指定一組圖示 (含三個圖示),將低於 $80,000、低於 $60,000 以及低於 $40,000 銷售額的儲存格加以醒目提示。或者,您也可以針對汽車指派 5 點的評等制度,並套用一組圖示 (含五個圖示)。

指向 [圖示集]

然後按一下其中一組。